Father Noel Bryce Burt
Fa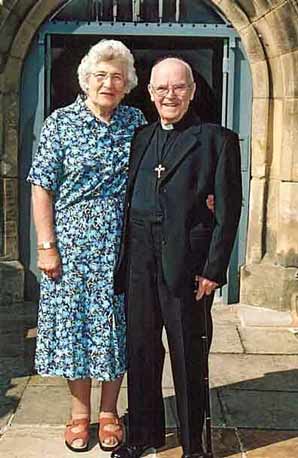 ther Noel died on S. Mark's Day, 25th April 2005. Born in Lancashire, he served as a captain in the Burma Frontier Force during the second world war. He studied at Claire College, Cambridge and then at Cuddeson College, Oxford where he studied theology. Father Burt served his title at York and S.Martin's, Scarborough and was vicar of S. Saviours, Scarborough and Sledmire. He served in the Scottish Episcopal Church before arriving at Ingleton where he was vicar from 1976 until he retired in 1988
After retirement he helped out in many parishes during interregnum and holiday cover. S. Helen's was in Fr. Burt's care until Fr. McTeer came to the parish in 1995.
Father was a faithful and loyal priest, his wisdom and priestly help being greatly appreciated and, along with his wife, Barbara, became a well respected friend of so many in the parish.
Father was of the old school, always in clerical and always immaculately dressed. He was a traditionalist and would have nothing to do with the new liberal ways of the Church of England but was determined to stay and stand up for the catholic faith as a member of The Chapter of Our Lady and S. Cuthbert and the Society of the Holy Ctross.
Many will remember Father for his love of the English language, his readings of the Gospels and the Book of Common Prayer.
Father Burt loved the following light hearted poem;
Wherever the Catholic sun doth shine
There's music and laughter and good red wine
At least I've always known it so
Benedicamos Domino
The poem says much about Father and the way we remember him.
May he rest in peace