The Eden Family
The Eden family association with the church of St. Helen Auckland lasts for at least three centuries, from the second half of the sixteenth century when ROBERT EDEN married and went to live in the old Manor House at West Auckland, until 1835 when the Edens moved to their new country house at Windlestone, a few miles away.

The family association with St. Helen's Church was a close one. Outside the east wall of the chancel are several Eden family tombs. On the tomb of Catherine, wife of Sir John Eden is the following inscription:

How loved how valued once,
avails thee not,
To whom related or by whom begot
A heap of dust alone remains of thee
Tis all thou art and all the proud shall be

On the north and south walls of the church hang two diamond-shape hatchments bearing the coat-of-arms of the Eden family. These would have hung on the door of the bereaved family until the funeral and then they would have been transferred to the church.The one on the north wall is that of JOHN EDEN who died in 1812. The one on the south wall belongs to an unknown member of the Eden family. On the seventeenth century panelling in the chancel, behind the organ is carved the name RALPH 1629 EDEN. Could this be a boyish prank during a long tedious sermon? The lectern and other items in church are gifts of SYBIL, LADY EDEN.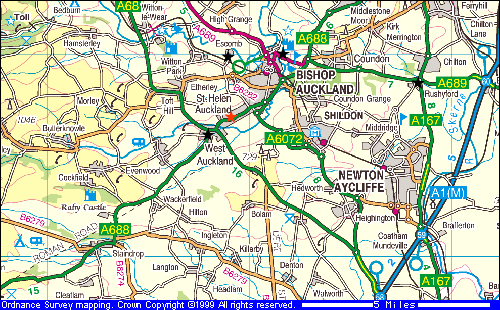 Image produced from the Ordnance Survey Get-a-map service. Image reproduced with kind permission of Ordnance Survey and Multi Media Mapping.